Sea 40 in Lewiston Maine has some amazing lunch options on our menu.  Try one of our house favorite bento lunch boxes or our hibachi lunch options to keep your day going!  You can always order up some appetizers or sushi rolls to accompany your order as well.  Dine at our bar, in our dining area or order it to go too.
From Sushi Bar
(Served with salad and soup)
*

Sushi Lunch

$14 6 pcs of sushi with a California roll
*

Sashimi Lunch

$16 12 pcs sashimi with a side of sushi rice
Classic Rolls
(Served w. Salad and Soup) 2 Rolls $8 / 3 Rolls $11
*Tuna
*Salmon
*Yellowtail Avocado
California
Avocado Cucumber
*Spicy Tuna
*Spicy Salmon
*Spicy Yellowtail Avocado or Cucumber
Boston
*Lewiston
*Tuna Avocado or Cucumber
*Salmon Avocado or Cucumber
*Eel Avocado or Cucumber
*Philadelphia
Spicy Crabmeat
Salmon Skin
Crabmeat Tempura
White Fish Tempura
Sweet Potato Tempura
Banana Cucumber Tempura
Lunch Box
Served with Soup and Salad, White Rice and Shumai/Gyoza or Japanese Spring Roll – $8
(Fried rice $2 extra)
Basil Beef
Beef Negimaki
Beef Teriyaki
Chicken Katsu
Chicken Pad Thai
Chicken Soba
Chicken Stir Fried Udon
Chicken Teriyaki
Crab Cake
Ginger Chicken
Katsu Chicken Maki
Mango Chicken
Shrimp Ball
Salmon Teriyaki
Shrimp Teriyaki
Hibachi Lunch – Single Item
Vegetable $9
Chicken $10
Steak $11
Shrimp $11
Salmon $11
Red Snapper $11
Scallop $13
Filet Mignon $14
Lobster $14
Hibachi Lunch Combos
Chicken & Steak $14
Chicken & Filet Mignon $17
Chicken & Shrimp $14
Chicken & Salmon $14
Chicken & Scallop $15
Filet Mignon & Shrimp $18
Filet Mignon & Salmon $18
Filet Mignon & Scallop $19
Salmon & Scallop $18
Steak & Shrimp $15
Steak & Salmon $15
Steak & Scallop $16
Red Snapper & Chicken $14
Red Snapper & Steak $15
Red Snapper & Scallop $18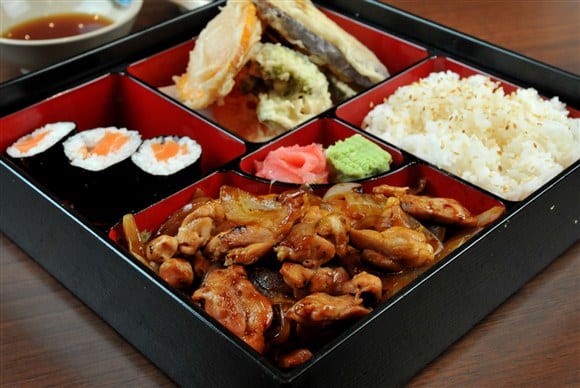 *This food is or may be served raw or undercooked or may contain raw or undercooked foods. Consumption of this food may increase the risk of foodborne illness. Please check with your physician if you have any questions about consuming raw or undercooked foods.